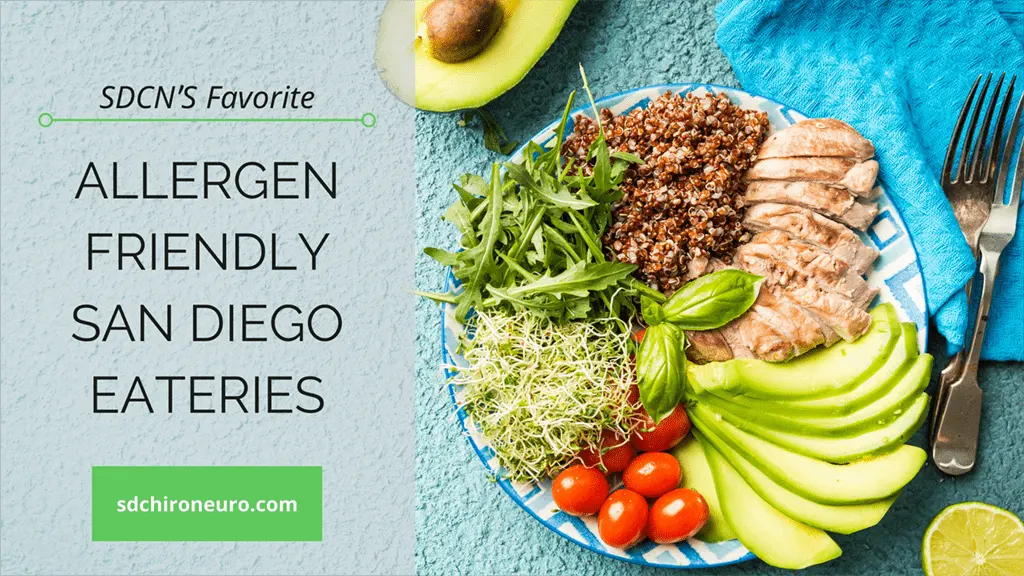 Hello everyone! We are bringing you a different type of blog here today… Food! Here at SDCN a lot of our patients (and doctors) are on pretty restrictive diets so we thought we'd compile a list of some of our favorite places to eat! From downtown to Encinitas, we got you covered!
Nectarine Grove – Leucadia (American, Organic, Paleo)
First off is one of our favorite spots in North County! Nectarine grove is all gluten free, organic, and everything can be dairy free if needed as well. They are primarily paleo and are packed with great food for young and old. They have delicious buttered coffee as well as smoothies! Our favorite is the BBQ Chicken pizza with vegan cheese (in-house made). It's right next to the beach as well so bring a bathing suit!
Buona Forchetta – South Park (Italian, GF, DF)
This Italian food is unreal! The gluten free options are great and they can be made dairy free as well which is a plus. The taste is authentic and the service is great. We recommend getting a pizza or pasta, it's hard to go wrong here!
Healthy Creations Cafe – Encinitas (Sandwiches, Desserts, Paleo, Organic)
The sister establishment of Nectarine Grove is also a MUST! They have some delicious sandwiches and wraps if you're on the go! They have some super tasty treats and some prepackaged food if you need something later for dinner. Our favorites are the Mediterranean Chicken Panini and the Curry Chicken Sandwich!
Awash Ethiopian Restaurant – North Park (Ethiopian, GF, DF)
This restaurant is one of our favorites and we probably eat here about once a week. Although the vegan options are small, the food is packed with flavor. The injera is made with teff flour and is gluten free. Most of the dishes here are gluten free and some are dairy free. This is a great option if you're looking for more of a family style dinner. It's located in the back of a grocery store so don't be confused if the front doesn't look like a restaurant! Our personal favorite is the veggie combo.
True Food Kitchen – Mission Valley & UTC (Mixed, Organic, GF, DF)
True Food Kitchen is a chain located in most malls in the area. The menu is full of gluten free, dairy free, and vegan options. They are also extremely accommodating if you need something switched out or removed! They have a good selection of different types of food from mexican to korean and they always have seasonal items. We suggest you get the vegan gluten free pizza!
Menu Map (Mission Valley) Map (UTC)
Cafe Gratitude – Little Italy (Vegan, Organic, GF, DF)
Next up we have another chain located in Little Italy! They are 100% vegan and are primarily organic as well. They have plenty of gluten free options and their smoothies are fantastic. There are plenty of choices for dessert as well if you're having any sweets cravings! Our favorite here is the Liberated Basil Pesto Kelp Noodles.
Plumeria Vegetarian Restaurant – University Heights & Encinitas (Thai, Organic, Vegan, GF, DF)
If you're looking for some really good Thai food then look no further! Plumeria is a vegan Thai restaurant located in University Heights that we absolutely love. We will give you a heads up that they do not have a separate fryer for their foods so beware if you are sensitive to cross contamination when ordering anything fried! Their curries are extremely tasty and if you're in need of something spicy they will deliver. Our favorite is the Yellow Curry dish with a coconut milk Thai Tea.
Menu Map (University Heights) Map (Encinitas)
Bobboi Natural Gelato – Little Italy, La Jolla (Gelato, Vegan, GF, DF)
Bobboi Natural Gelato is a sweet place located originally in the La Jolla Cove but now has a second location down in Little Italy! They have tons of dairy free options and if you're looking for a little jolt of energy as well, get yourself an affogato (espresso over gelato). We recommend you get a mix of the dairy free pistachio with the dark chocolate!
Map (La Jolla) Map (Little Italy)
Kindred – South Park (Vegan, American, GF, DF)
Kindred is an eclectic eatery that is not good for people who are misophonic or don't do well in loud places! They do have some really amazing food and tasty mocktails. They are pretty accommodating and you're sure to find some good plates and appetizers here. For those of you on plant based diets or vegan, this is a great spot to eat brunch or dinner! It can get pretty packed at night but takeout is always a good option. Our favorite is the Hearts of Palm and the Tofu Skewers!
Honorable Mentions
Lastly here are some honorable mentions if you're still itching for more!
Ironside (Little Italy) – Seafood
Herb & Wood (Little Italy) – Upscale American
Tocaya (Del Mar) – Upscale Mexican
Havana Grill (Clairemont Mesa) – Cuban
Bushfire Kitchen (Del Mar) – American
Le Macaron (Del Mar/UTC) – Desserts
Urban Plates (UTC/Carmel Valley) – American
Mendocino Farms (UTC/Carmel Valley) – Sandwiches